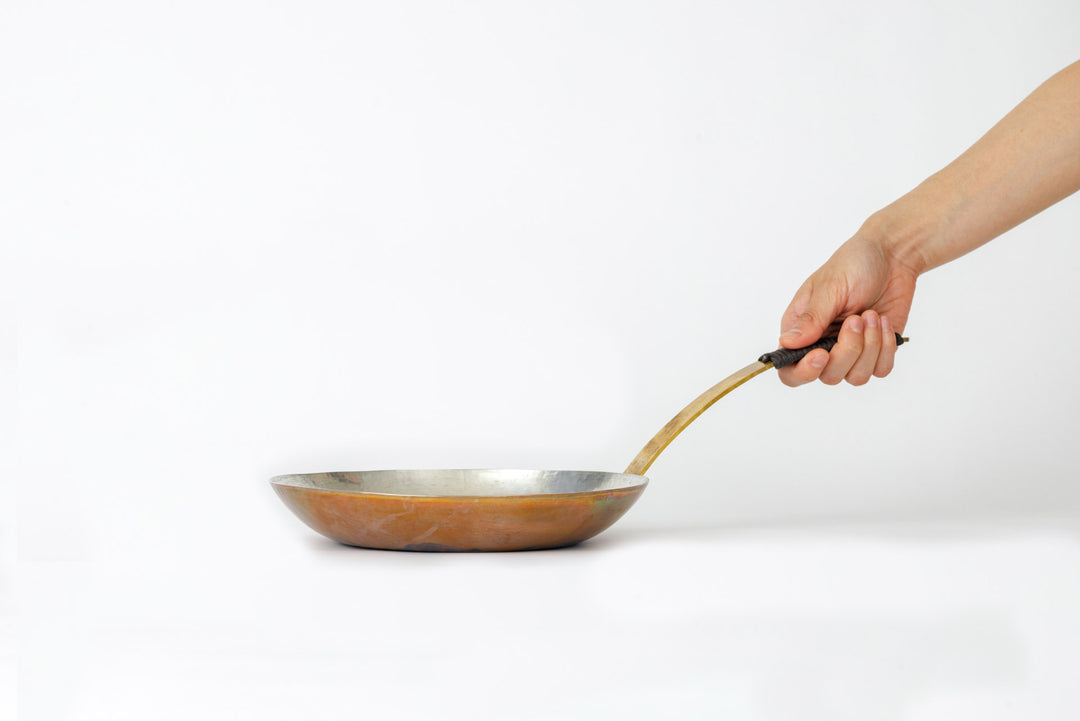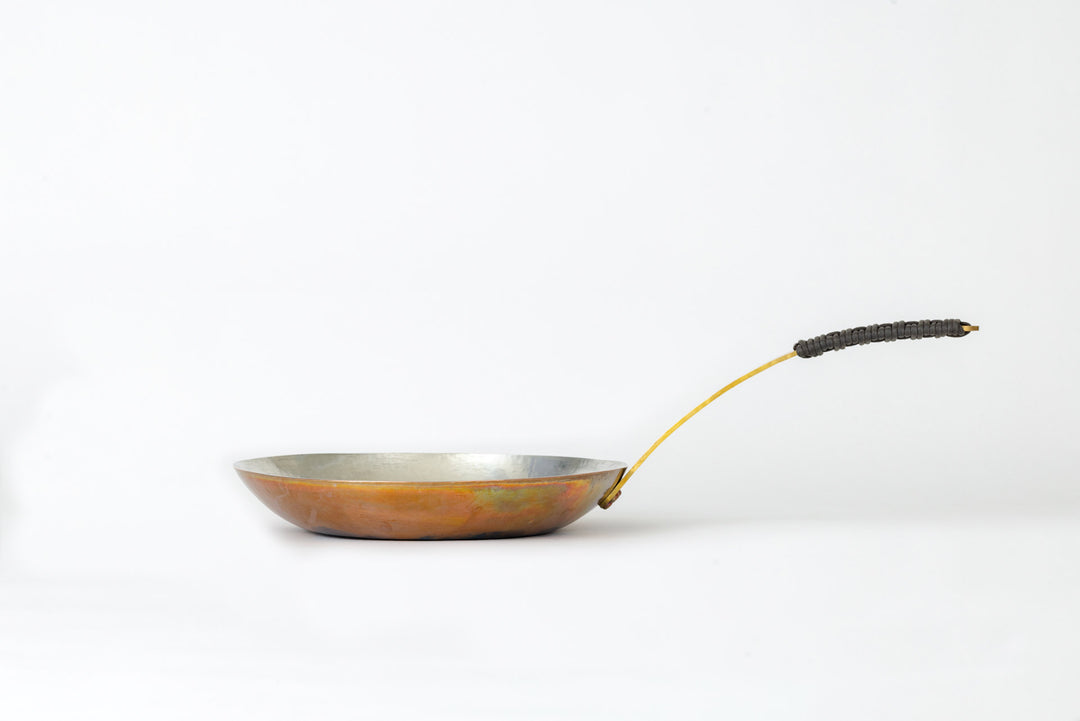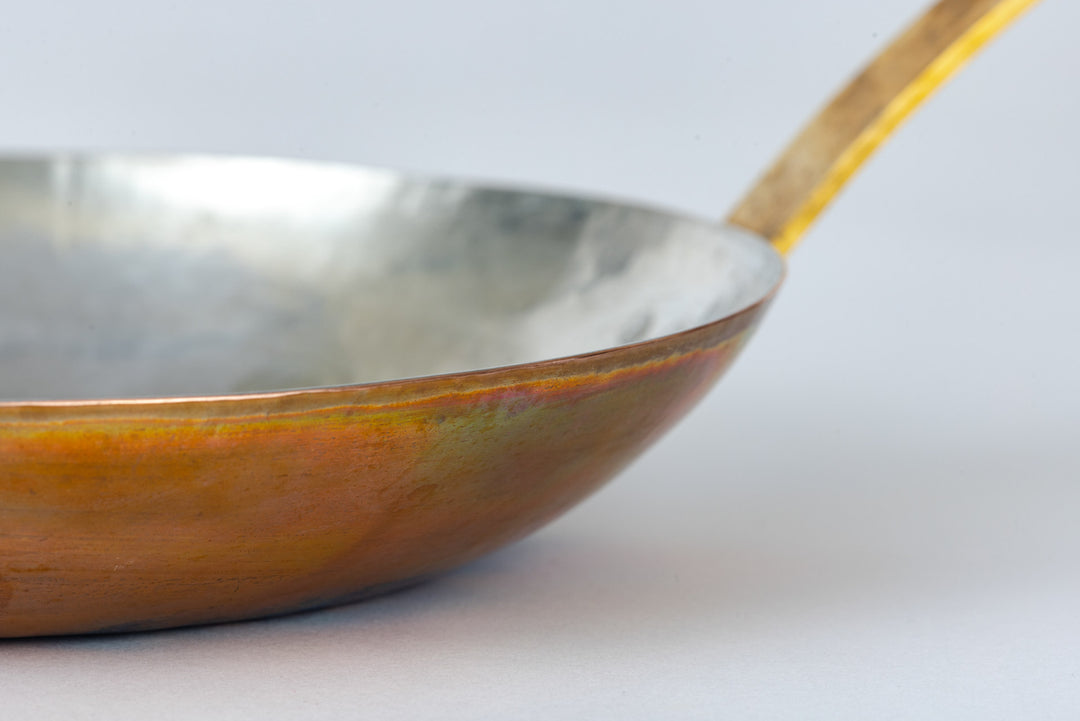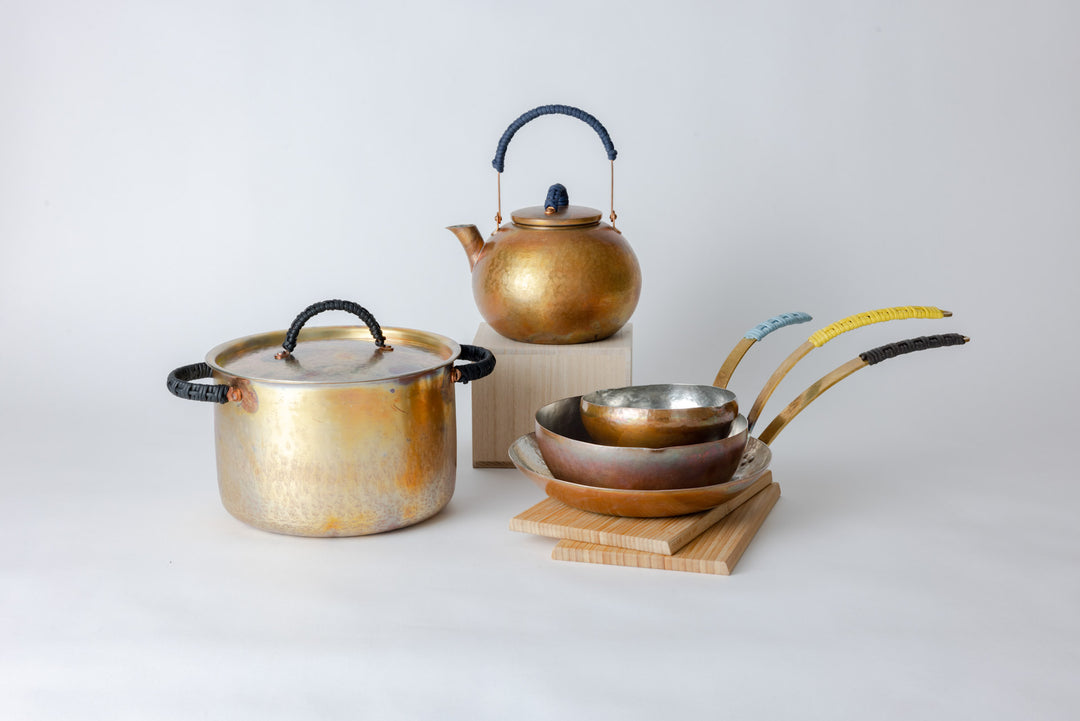 Copper Frying Pan
Low stock - 1 item left

Inventory on the way
Love every day with artisan-crafted copper cookware
This artisan-made copper frying pan is durable, beautiful, and made to last for lifetimes. Copper's excellent heat conductivity and natural antibacterial properties make a great choice for cookware on a gas range. 
Fired copper takes on different colors and patterns, making no pans the same. 

*Large size shown. Available in Large (Ø 23 cm) and Small (Ø 16.5 cm). 
*Not compatible with induction stoves. 
*Made with fired copper. Due to the artisan-crafted nature of this product, each frying pan's surface is unique, as seen in the product photos.

*Please Note: Depending on available stock, some items may be made-to-order, requiring slightly longer shipping time. 

Studio: Tazen
Origin: Sendai, Miyagi
Dimensions:
S (Ø16.5 (base 12) x 2.5 H cm)
L (Ø 23 x (base 14) x 3.5 H cm)
Capacity: 
S: 380 ml
L: 870 ml
Weight: 
S: 220g
L: 580g
Materials: Copper
Technique: Fired copper, tin-plating finish
Using copper products is the most natural way to care for them. Although there is nothing special about caring for copper products, please keep the following points in mind to ensure long-lasting use.

From day one, copper will  change. Unlike other materials, changing from a brand new state is positive for copper items.
If oil, salt or other contaminants remain on the copper and oxidise, a metallic odor and greenish-blue patina will eventually appear. This patina is harmless to humans, but to prevent it from appearing simply follow these basic care guidelines.
Daily Care:

After use, wash with a soft sponge or cloth and neutral liquid detergent. Rinse completely with hot water and dry thoroughly.

Scrubbing with baking soda and water also neutralises the surface from acidic to alkaline, thus preserving the copper's lustre.
Occasional Care:
Method 1: Restore the lustre
Wash with a paste of baking soda and water, rubbing it gently. Rinse with warm water and then dry thoroughly.
Method 2: Remove black stains such as tea stains
Soak in an oxygen bleach solution to neutralize the oxidized copper and remove dirt such as black stains.
Method 3: Maintain the surface's aged state while giving it a polished look
Melt beeswax on low heat, apply and polish the surface of the copper while wiping excess beeswax off.
Method 4: Reset the copper to its original state
Polish the surface with commercial polishing powder such as Picar to reset the copperware to its original state.
Other precautions:

Handle items with care and avoid scraping them with sharp objects, bending them, folding them and applying strong force to them. These actions damage the copperware.
Refrain from using copperware products if you have, or believe you may have, a metal allergy.